For some time now we have been working on streamlining our workflow and in particular consolidating some of our core code base. The unified Zen Grid Framework Plugin we released along with the Responsive Joomla template were the first wave of the consolidation and I am happy to say that stage two is now here.
The Zentools module is a flexible (read responsive) Joomla module that can deliver some stunning content and image galleries from a range of content sources.
Check out the demo here or grab yourself a copy.
Responsive layouts
The beauty of the Zentools module is that it is 100% responsive. All of the layotus whether it be a slideshow, carousel, list, grid or accordion will respond to the width of your template and if your template permits to the width of the browser.
This means that you can now use a slideshow in your content that will scale beautifully on mobile platforms (if your template supports it). Check out the Slideshow demo and resize the browser to see whta I mean.
Drag and Drop
It features a super simple drag and drop interface which controls the various content elements available in the module. This gives you unprecedentated flexiblility when it comes to determining how and where items in your gallery will be laid out.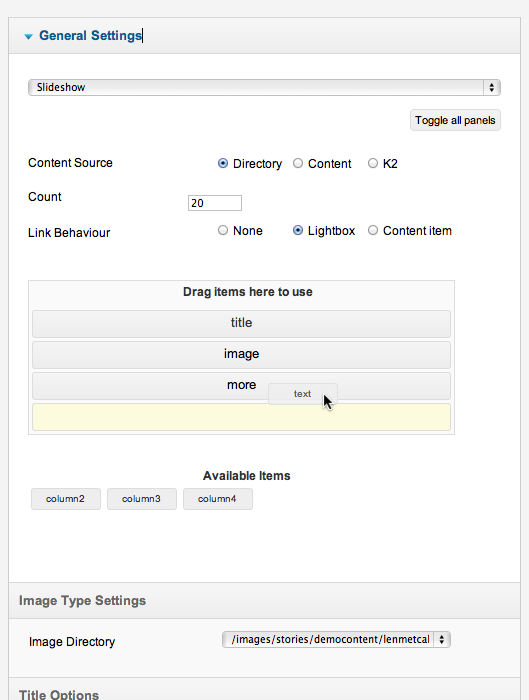 Dynamic Parameters
Gone are the days where you had to sift through acres of settings in order to control your content. The Zentools module dynamically populates the relevant settings in your module based on your layout selection, content source and element selection. So if you are using Joomla as your content source then you wont see any settings that relate to K2 and vice versa.
Images from a directory as a source
One of the limitations of the current stock of modules has been that we haven't had a simple way to populate a slideshow from images in a folder and then attach it to your content. Slideshow3 certainly has that ability but the Zentools implementation makes this almost effortless.
A unified Joomla 1.5 and Joomla 1.7 module
In keeping with all of our recent releases the Zentools module will install on either Joomla 1.5 or Joomla 1.7 from a single package with no trouble.
Recently expired members can get a copy
I spoke last week about the various interuptions to our development process over the last month to six weeks and as a way of making this up to recently expired members, we are going to make this module available to you. So if your membership ran out from the 1st November to today just send us a note via the contact form and we will pass a copy of the module on to you.
Zentools Roadmap
After we get the next theme out the door - which I hope will be available by Friday - the plan is to retrofit all of our old templates and quickstart packages with the Zentools module.
And then once that is done I will be adding support for some more content sources such as flickr, twitter and perhaps some more Joomla ccks.
Also on the cards is the addition of some new layouts to choose from such as content tabs and another variation on a slider.
We are certainly keen to here what you would you like to see in the module? So if you have some ideas - let us know in the comments.