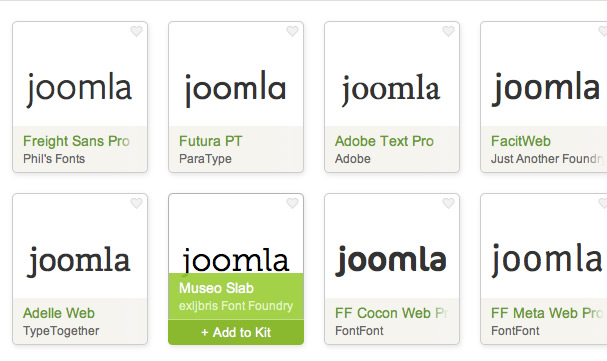 [Typekit support has been a part of our Joomla template framework since v1.0 however I really havent focussed that much on it given the rise and proliferation of google fonts. If you don't know about Typekit, it's a web font provider that has an extensive range of quality fonts available for you to drop into your Joomla template. It's a paid service but it's relatively cheap and really has some fantastic font choices available.
Using quality Google fonts
While google fonts are certainly easy to work with, and are also free, it takes a bit of work to sort the wheat from the chaff, although there are some good blog posts out there offering suggestions for choosing quality Google fonts. (The last link is my favourite) .
So despite the fact that Typekit is a paid service and compiling your own font stack take a little extra work, I think the benefits are obvious when it comes to choosing consistently good quality fonts for your website.
](https://typekit.com/)