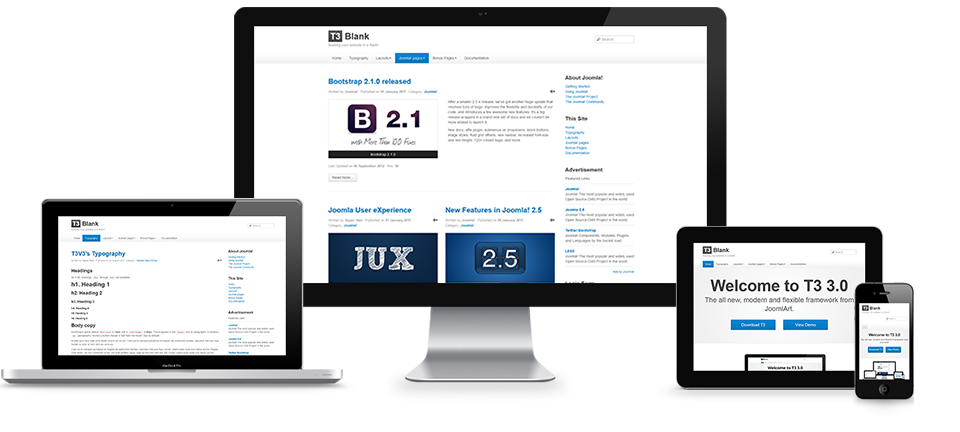 After a lot of in depth analysis, soul searching and reading tea leaves, we have decided to move our Joomla template releases to the T3v3 framework.
This has not been an easy decision to make but we are confident that it is the right decision. A lot of people have been surprised about the change, so let me take you through the reasoning behind the decision.
So, What is the T3 framework?
The T3 framework is a Joomla template toolkit that provides a set of useful tools for creating Joomla templates. It is developed by Joomlart and released as an open source platform that anyone can use.
It is an installable plugin that is installed in addition to your Joomla template but essentially sits in the background providing some of the core functionality and features that ship as a part of the template's feature set.
Why move to the T3 framework?
1. T3 is where I wanted the Zen Grid Framework (ZGF) to be.
When I first looked at T3v3 (around 6 weeks ago) I was blown away by the maturity and functionality of the framework. After speaking to Hung from Joomlart I was further reassured that what I could see in the code and on the page matched the design philosophy that we were also pursuing with ZGF.
T3v3 is a complete rebuild of their framework with an emphasis on performance and responsive / mobile functionality. The templating system and core functionality has been completely stripped back, reworked and revisioned - almost making it a completely new template framework.
2. The same zen philosophy on a new and improved codebase.
One of the big factors for me was the fact that the T3 templating system is very similar to the ZGF layout override functionality. It's actually a lot simpler to use and makes customisation a lot more obvious to the developer minded - I'll be writing a tutorial on how to customise your Joomlabamboo T3 template in the next few days.
The template system is so flexible that we can more or less keep the existing markup from our current framework with the same module positions and naming convention which - with a little luck - will mean that upgrading your ZGF Joomla 1.5 / Joomla 2.5 template will be a relatively easy task.
For all intents and purposes, shifting to the T3 framework for the developers will not be a giant leap and I think the improved flexibility and accessibility will make up for any short fall in understanding the new workflow.