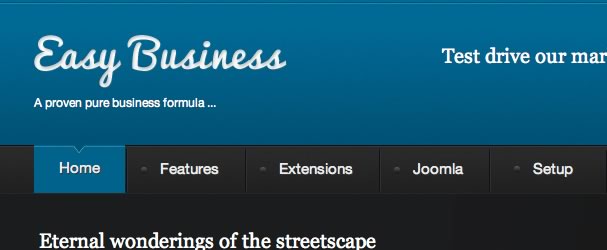 Our April Joomla template release, Easy business, is a solid and simple business base template that is going to be perfect for those of you who need an easily configured and easily customisable Joomla business template for your clients. The big focus is of course on the slightly outlandish sidebar but beneath that is a stylish design that draws upon soft gradients, with edgy bevels and some bold colour schemes. We are gradually reigning in our release time frames so Im hoping to have this one ready early next week.
For a screenshot of the current work in progress check out the grab below.
A note on Joomla 1.6 compatibility.
Over the last few months we have been working on porting the framework, templates and extensions across to Joomla 1.6 but due to a few factors its taken a little longer than we had anticipated. The good news is though that we hope to be able to roll out the core build templates starting from next week and ideally we will start to be able to have some of the recent Joomla 1.5 templates released for Joomla 1.6 either at the end of next week or the start of the following week.
A few of our smaller extensions are going through last minute testing and so Im hoping to be able to bring you some Joomla 1.6 extensions hopefully as soon as tomorrow.
We know that you are itching to try out our designs in Joomla 1.6 so we are very appreciate your patience ... check out the screenshot below.