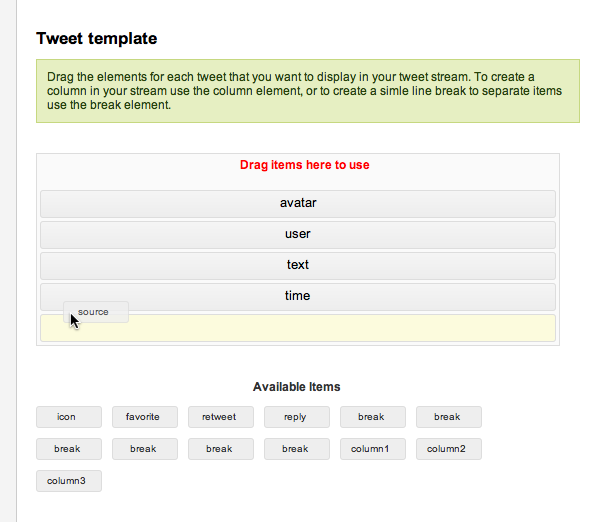 Yesterday I released a major update of our free Joomla twitter module. jTweet has been in need of a bit of a refresh for quite some time and this release adds a lot of flexibility and a lot of power. jTweet is built on the brilliant Sea of Clouds Tweet script with a few additions and enhancements.
Drag and Drop templating
If you've used our Zentools module you will know how easy it easy to create your own content layouts using the drag and drop interface; and now that same flexibility is available in the jTweet module. That means you can just drag and rearrange the elements you want to display in your tweet stream which means you have total control over how your twitter stream appears.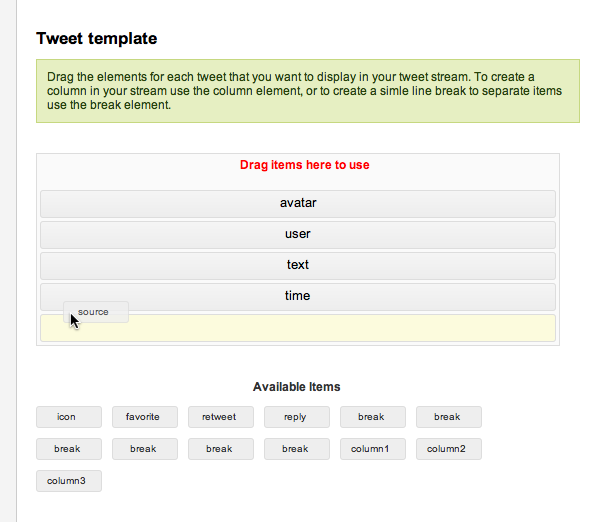 New tweet layouts
jTweet now has the ability to display your tweets in an animated scroller or as a paginated list. In addition to the new column and line breaks available that you can add to the tweet layout in the templating area.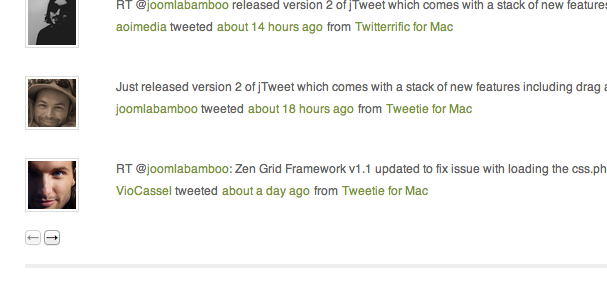 Some new themes
We have also added some built in themes that you can easily apply to tweets in the stream. At teh moment you can use a shadow or tweet bubble theme however we are looking at adding some more flexibility and more fleshed out themes in future versions.
Subtle shadow
Bubble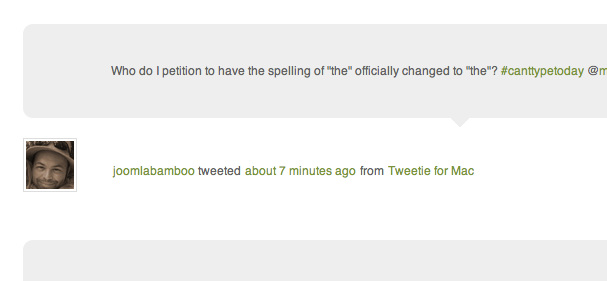 Tweet Refresh
Another new feature is the abilty to refresh the tweets on the page. This allows the twitter stream to update without the user needing to refresh the page. Users need to be careful with this setting as Twitter throttles the number of requests per IP so setting this below 30 seconds for each refresh will cause some errors with tweets not loading.
Display Favourited tweets
Version 2 is also to display only favourited tweets in the module making it a handy way to store your favourite tweets or links
An intelligent admin
The module now only shows you the parameters as you require them. As an exampel if you choose to use a twitter name as the source then you wont see any parameters related to the twitter query option. This ensures that the workflow is streamlined and you dont have to wade through a tonne of irrelevant parameters.
Display retweet, favourite and reply buttons
You can now display direct links to the retweet, favourite and reply functions built into twitter. This enhances the user interaction from the twitter module which makes it even easier to encourage interaction and social media engagement.
There are a few more enhancements and also some key fixes - including fixing the multiple users in the timeline issue - so please grab a copy of the latest version now and give the new features a test run. You can also check out the new documentation page on the JTweet knowledgebase article.
Enjoy!
blog comments powered by

Disqus