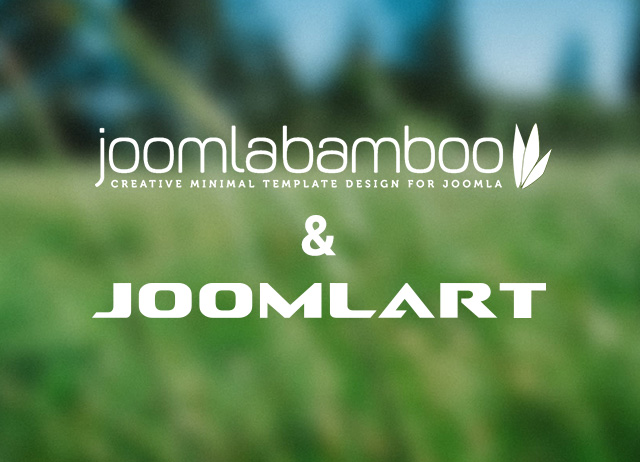 Hi Folks,
As you are probably well aware JoomlaBamboo has been struggling for a while and for a period in January this year, it looked like we might have to close. To avoid this we started reaching out to other Joomla providers and we're really pleased to announce that as of 21st February 2018 JoomlArt will be taking over JoomlaBamboo.
Going Forward
There will have to be changes to the way JoomlaBamboo is run in order to ensure that it works better for you the members and also to ensure that it is an innovative and forward looking business.
Here are our plans for JoomlaBamboo in the short term. Please as always let us know what you think in the comment section at the bottom of the page.
What we've been doing in the last 2 weeks
We are currently organizing staff, moving servers, moving various accounts over to JoomlArt and auditing all the templates/extensions. From the 21st February a new development team will come on board and we will then start working on new projects, updating templates, frameworks, quickstarts and extensions.
Product Future
Zen Grid Framework v5, Zentools2 & Templates :
JoomlaBamboo will continue as before with its own set of framework, quickstarts, templates and extensions. These will be maintained and updated for the latest Joomla 3 and also for the upcoming Joomla 4.
All products will be tested and updated for the latest Joomla 3.x and PHP 7 versions, along with bug fixes.
All products will then be upgraded for Joomla 4 once Joomla 3.x upgrades are completed.
Template releases:
We need to ensure our portfolio is up to date and bug-free, which will take several weeks.
Religion template – we have a nearly complete template release pending from pre-JoomlArt which will be uploading shortly for feedback from members.
Subscriptions & Pricing plans :
Lifetime memberships, unfortunately, have made JoomlaBamboo unviable and we will have to restructure these memberships. There will be an option for members to let go their lifetime memberships and upgrade to access a wider range of products and services.
We appreciate this isn't going to be a popular decision, but it is absolutely necessary given that this was a major factor in JoomlaBamboo almost going out of business. Without regular income, we can't develop new designs/extensions and provide on-going support to members. As part of JoomlArt (which has a large extension portfolio), we will be adding more options, different products and services for our members.
Support Channels:
There will be one channel of support and that will the be forum. We will be phasing out ticket support once we have updated JoomlaBamboo's portfolio of extensions and templates.
We may re-introduce a ticket system at a later date for premium memberships and this is something we are considering. The ticket system does see lots of threads with questions that can be best dealt with on the forum and going forward we need to make better use of our developers time.
JoomlaBamboo site:
We will be upgrading the JoomlaBamboo site and we are still looking at how best to do this. The forum also needs to be updated which will require a migration and we are also considering how best to organise the documentation and the blog (elements of which are on the Grav CMS).
Single sign on
JoomlArt has been working on Single Sign on to enable single login across the JoomlArt product range. The product range includes extensions/templates from JoomlArt, Gavick, JomSocial, iJoomla and JoomlaBamboo (will be included). We will have more details coming out very soon on this.
Paulo, Caju, Julio
We'd like to thank Paulo, Caju, Julio for their work on JoomlaBamboo and for their help in making the transfer of ownership as smooth as possible.
Feedback
We would like to have your feedback about our plans and if you have any concerns about the change of ownership, please add your comments below and we will answer them as soon as possible.
A big thank you
To end this post we'd like to thank all the members of JoomlaBamboo for their patience and support during this difficult past year. This goodwill and support was highlighted to the new owners by this forum thread, which made it very clear that members valued, wanted to support JoomlaBamboo and were willing to help turn it around.
blog comments powered by

Disqus