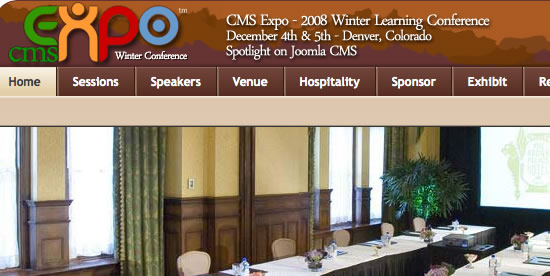 I recently had the chance to chat with John Coonen, one of the creators of Joomla Expo in Chicago earlier this year. It was a huge success from all reports, and when John mentioned that it was expanding into CMS Expo I was curious to hear more.
Welcome John. First off can you tell us a little bit about yourself and your involvement in Joomla?
We have a great deal of experience with OS and Proprietary CMSs for business; we have raised millions of dollars for various social causes, and we're not half bad at building communities and a strong membership base; it only follows that in June of 2008, Linda and I decided to focus our company's 100% effort on building a CMS community, so we started the CMS Association Inc on July 4, 2008 (US Independence Day).
So tell us a little bit about CMS Expo?
The 2008 Winter CMS Expo is a 2-day learning and business networking event, in Denver, Colorado. Geared for CMS professionals and enthusiasts, the spotlight for Winter 2008 will be all about Joomla! CMS. Attendees have a choice of 26 classes, provided in three tracks, by 12 outstanding instructors, plus several more intimate Pre-Conference training sessions on Wednesday, December 3rd for beginners and advanced users. CMS Expo will showcase thirty Exhibit Booths, occupied by some of the Joomla CMS world's top organizations:
Solutions Providers
Hosters & Service Providers
SEO & Web Marketing Agencies
Publishers
Software Extension Developers
Template Designers
Executive & Technical Recruiters
Education & Training Institutions
Web Security Providers
Open Source & Proprietary CMS Providers
CMS Expo will be held in the first week of December:
Pre-Conference Sessions: Wednesday, December 3rd, 2008
CMS Expo Main Event: Thursday and Friday, December 4th and 5th, 2008
So who can benefit from coming to the expo?
Attendees from business, non-profit, government and education sectors will be in attendance. All members of the CMS Team will benefit from attending the Winter CMS Expo:
Business People
Administrators
Developers
Content Producers
Who is on the CMS Expo team?
The CMS Expo is owned and operated by the newly formed CMS Association Inc, based in Chicago, Illinois. This member-driven organization's purpose is to empower its members through excellence in learning and networking. Co-directed and owned by John and Linda Coonen, the organization plans to hold two annual CMS Expo events in North America - one in Spring/Summer; the other in Fall/Winter. We anticpate that we will have an audience of around 300 attendees.
What Is the Future of CMS Expo?
This year's two Expo's - Spring/Summer JoomlaExpo in Chicago, and Winter/Fall CMS Expo in Denver, are entirely focused on Joomla CMS. We bring in some of the world's top afficianados. We are not interested in "professional speakers" presenting Joomla; we are interested in providing highly relevant topics, presented in a practical manner by people who are actually in the trenches today. We provide top key note speakers, to talk about the overall vision of the CMS Community, but our real strength is in presenting CMS solutions by "real people," TO "real people."
The Sessions are presented by business owners, developers, administrators and content producers.
Immediate future plans for the Expo is to hold two Expositions every year. The kick-off Expo in will focus on networking and new business relationships, as well as a career fair. The winter event will feature the Year-end CMSA Awards Program, spotlighting the best CMS solutions of the year. For instance, outstanding innovations in development and design, best websites, extensions, books and media, training programs, most outstanding security advancements, and a focus on charitable teams which have made an impact, using Joomla. If Expo is successful in the near-term, then future CMS Expo's will expand, featuring other outstanding CMS solutions, in addition to Joomla. Enthusiasts from the best CMS solutions will be encouraged to be a part of CMS Expo as it grows. We will keep our pricing affordable and geared toward the open source solutions audience first.
We are currently working on expanding CMS Expo events beyond North America.
Joomla Expo sounded like it was a huge success. What were some of the highlights for you?
We expected 150 - 200 visitors to JoomlaExpo, and expected the market to be 95% Chicago-area visitors. We were absolutely blown away when over 50% of our audience came from out-of-state, and over 20 folks came from out-of-country!
The chemistry of the Attendees, sharing information and learning more about Joomla! was, as one of our visitors (an entrepreneur from Colombia) notes, "a glowing ball of positive energy." For many folks, JoomlaExpo truly was a magical experience, beyond merely a simple learning conference.
Speakers at the Spring JoomlaExpo:
Barrie North - CompassDesigns.net
Tom Canavan - JoomlaRescue.com
Steve Pignataro - CorePHP.com
Victor Drover - Anything-Digital.com
Joe LeBlanc - JLLeblanc.com
Azrul Rahim - Slashes & Dots / Azrul.com
Mike Carson - JoomlaShowroom.com
Steve Burge - Alledia.com
blog comments powered by

Disqus