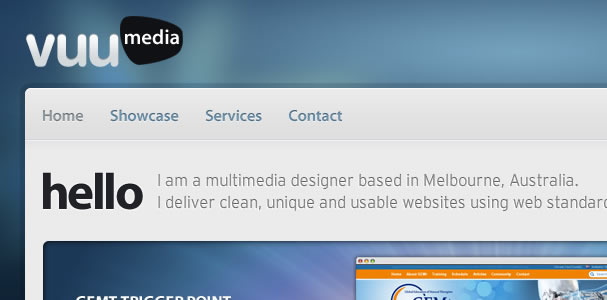 1. Can you tell us a little bit about your background? When did you start designing? What type of work do you do?
I began designing back in 2001, it originally started as a hobby where I would do the occasional business card and logo design but nothing serious.
My first commercial website design was in 2004 whilst doing a multimedia course at RMIT University. During my education, I did the standard freelance and voluntary job to build up my portfolio. In 2007 after I graduated, I made web design a fulltime profession.
After six years of commercial experience, I currently work as a full time design lead for a creative web agency (Melbourne, Australia). I do freelancing work on the side at Vuu Media and have recently branched out to start my own web and mobile web conversion busines at Vartro.
I specialise in both front-end design and development, making sure it looks great as well as functions the way I envisioned it.
2. Can you describe your workflow? Where do you start when you get a brief from a client?
Once I receive the client's brief, I do my research – it's the most important part that builds the momentum for the rest of the project. Firstly, I research websites in the same industry getting the general feel on what is required. I then proceed with the theme and aesthetic research. Following that, I do wireframes and a sitemap. This is the process I always take within the research stage, once all that has been approved by the client, it builds the foundation for the rest of the project, which consist of designing, building and managing.
**
Where do you gain inspiration from? What tools do you use?**
I'm heavily influenced by XHTML/CSS/WCAG standards design. I have a special interest in sleek/clean aesthetics, and also enjoy immersing myself in the colour scheme, lighting effects and textures demonstrated in both movie and game poster design. In addition I'm currently studying the theory of white space and typography.
As for web design tools, I normally use Adobe Photoshop, Illustrator and Dreamweaver from start to finish for a majority of projects. I will occasionally use a third party application to get the effect I require.
4. How has your style changed over the years you've been designing?
Looking back through my designs, I've noticed that the art direction of sleek and clean is still the core part of my design style. Through experience and acquired knowledge, my designs have grown to be more strategic. I have refined the use of colour hierarchy, consistency, white space and typography. Each design element has a purpose, therefore producing a more usable and effective website design.
5. What do you see as the future of web design?
Big Question! Where do I start...
Following the trends and the way users engage themselves with websites, I believe that usability and accessibility will be the main focus for the future of web design. It is important for a design to be clear, simple and fast. All design elements require a consistent flow throughout the entire website, as well as making certain elements pop out and others fade in to emphasise and create a hierarchy based on the web content and business strategy. For designers, the future is to refine these processes to assist both the end user and your client.
blog comments powered by

Disqus